The Problem
Outdoor canvas and different types of fabric that get dirty from exposure to the elements outside of your house like patio furniture can't get stand or dirty from bugs or just dirt that lands on the item.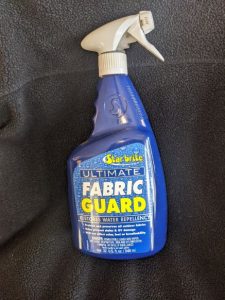 The Solution
This fabric guard preserves all outdoor fabrics and helps prevent the accumulation of stains and guards against UV damage will not affect the color, the feel and, most importantly, will not interfere with the breathability of the product. I've used this for a few years and found good results.
The price is $29.95 for a 32 fluid ounce spray bottle.
There is also a cleaner from starbright called ultimate Fabric clean that removes dirt and deposits for about $16 for a 32oz spray bottle.